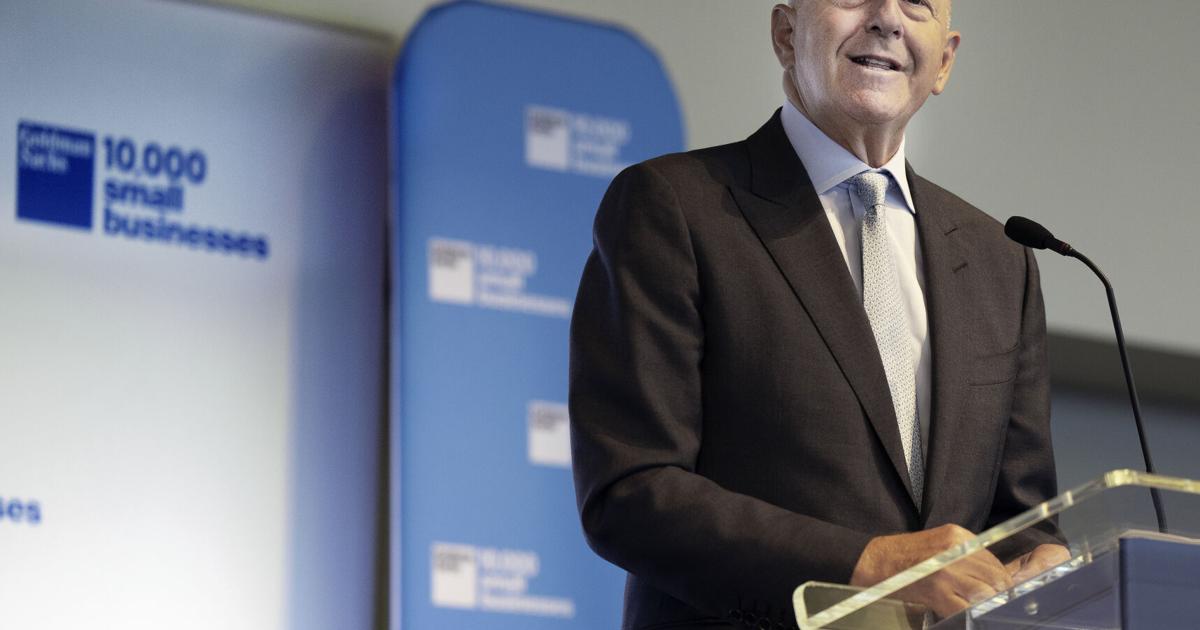 Goldman Sachs launched a $100 million nationwide investment focused on small businesses in rural communities with an event Friday at Bismarck State College. 
The initiative is an expansion of the investment bank's existing 10,000 Small Businesses program. North Dakota and Arkansas will be the first two states to be impacted by the investment — North Dakota's first cohort of 25 participating businesses was recognized at the event — but the program is intended to impact 20 states over the next five years. 
The majority of the $100 million will be earmarked for distribution to community development financial institutions, starting with Fargo-based Dakota Business Lending; $75 million will go toward providing loans for small businesses through these institutions. An additional $15 million will fund educational programs at community colleges, and the remaining $10 million will be focused on capital capacity-building grants. Goldman Sachs declined to comment on the amount of money that would be distributed to North Dakota. 
People are also reading…
Gov. Doug Burgum, a former small business CEO, said his personal experience with growing a business into a global company has left him excited about the initiative's potential in the state. Small business employees represent 55.7% of North Dakota employees, according to the U.S. Small Business Administration. 
"I know firsthand that tenacity and determination it takes to be a successful small business owner," Burgum said. "Making a business can be challenging. And it takes all you have. It takes courage. It takes commitment. It takes humility. It takes gratitude. It takes grit. But being a servant leader yourself, getting back to your community yourself, it pays dividends."
As part of the program, Goldman Sachs has partnered with Bismarck State College for educational programming. BSC is the investment bank's only planned higher education partner in North Dakota, though a company spokesperson said Goldman Sachs hopes North Dakota will be a "regional anchor" as the program expands in coming years. 
Cohorts for the rural-focused initiative will typically have around 25-30 members, and new cohorts are planned to be chosen around twice a year. Participants for the state's inaugural cohort come from across the state; though some businesses are based in Bismarck and Fargo, smaller communities such as New Town and Hettinger are represented as well. 
During the Friday event, Goldman Sachs CEO David Solomon recalled a trip he took to Bismarck a few years ago, when he spent the day with Sen. Kevin Cramer, R-N.D. In conversations that day, Solomon said, he was reminded of the importance of investment in states like North Dakota. 
"What struck me is that we all share in common a curiosity about the world around us, the resilience and the grit to go against the odds, the determination to blaze our own paths, a deeply held belief that if we pursue excellence, we can really achieve a lot in whatever our chosen field is," Solomon said. 
Beth Nodland, the owner of environmental consulting firm Juniper LLC and North Dakota's first graduate of the broader 10,000 Small Businesses program, said she has experienced firsthand the potential impact of investments in small businesses like hers. 
Nodland said she's excited to see how efforts in education and community-building will shape North Dakota's business landscape, especially as small businesses face unique challenges.
"I have gone around and met most of the alumni from North Dakota from the program, but this seems like a perfect opportunity for more connection," Nodland said. "We small business owners are really difference-makers in North Dakota."
Reach Jacob Fulton at 701-250-8225 or jacob.fulton@bismarcktribune.com.
The business news you need
Get the latest local business news delivered FREE to your inbox weekly.