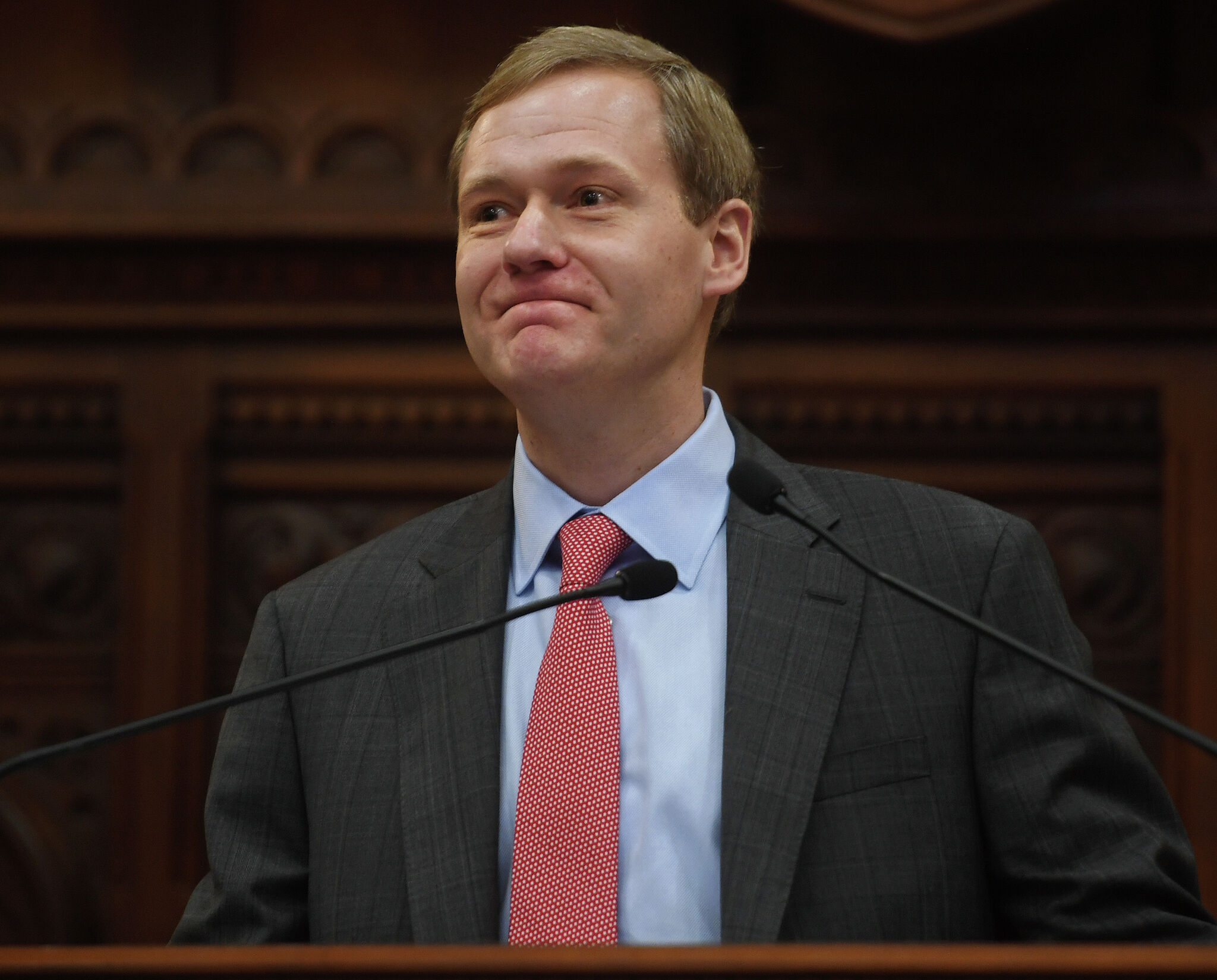 Gov. Ned Lamont was sworn into office Wednesday shortly after 12:30 p.m., marking the beginning of his second term as the chief elected official in Connecticut.
Lamont addressed a crowd of elected officials and dignitaries at the State Armory building after being sworn in, along with the state's other constitutional officers. He preached political parties working together, advancing the state of Connecticut and thanked both residents and supporters.
The inauguration is one part of a busy day in Hartford in which the 2023 legislative session gets underway. After calling the session to order around 10 a.m., state lawmakers  have until June 7 to conduct their annual business, doing everything from approving appointments to passing laws to crafting a state budget for the next two years.
Over that time, House Majority Leader Jason Rojas told the House of Representatives he estimated 2,000 to 3,000 bills will be proposed, hundreds of which will make it to committees and have public hearings. Some of them will eventually make it to the House and Senate floors for votes. 
Democrats hold a 96-53 lead in the House, with two members of the majority party stepping down on the first day of the session. Former state Rep. Dan Fox is believed to be a potential nomination as a judge in state Superior Court while Edwin Vargas of Hartford resigned as he seeks a job in the state university system.
The Connecticut Senate began it's proceedings Wednesday morning with eight new faces and a slightly larger Democratic majority of 24 to 12. 
Senate President Pro-Tempore Martin Looney, D- New Haven, was elected to a fifth term as Senate leader with support from both Republicans and Democrats. Both parties also returned their own leaders, Sen. Bob Duff, D- Norwalk, for the majority and Sen. Kevin Kelly, R- Stratford, for the minority. 
Much of the morning in both chambers is filled with official oaths of office being taken, election of leaders and speeches by legislative leaders.
On opening day, starting on a bipartisan note 
With partisanship so often on display in U.S. politics, the opening day of the 2023 legislative session at the state Capitol started on a bipartisan note. 
As the state House, where Democrats hold a 96-53 majority, considered whether to nominate Matt Ritter, a Democrat from Hartford, to continue to serve as Speaker on Wednesday, the person who rose to second his nomination was not a member of his own party but House Minority Leader Vincent Candelora, R-North Branford. 
Candelora said his support for Ritter had "nothing to do with waving a white flag." Republicans and Democrats will certainly continue to disagree on policy in the weeks and months ahead. But he said his vote represented something unique about Connecticut politics that is often not seen at the federal level – the ability for Republicans and Democrats to debate without devolving into mayhem.  
"At a time when we've seen politics go in the wrong direction, this speaker met the moment at the perfect point in time to make sure that Connecticut remains an institution of deliberation, of collaboration, of debate," Candelora said, adding that Ritter helped navigate the challenges of legislating during the COVID-19 pandemic. 
His remarks came as major divisions within the Republican Party nationally were playing out in Washington where Representative Kevin McCarthy of California was struggling to gain enough votes to become speaker of the U.S. House of Representatives, which is now GOP control. 
Ritter, speaking after being nominated, recounted remarks from prior House speakers who also presided over the chamber in times of dissonance, ending with a quote from Oliver Henry Perry, a Republican from Fairfield who served as speaker from 1859-60. 
"Fortunate is the man who is able to preserve the esteem of his political friends and at the same time, command the respect of his opponents," Ritter said, quoting from Perry's remarks on opening day in 1860. "I will do my best."
Early issues
In the first substantive action in the Senate chamber, Republican Minority Leader Kevin Kelly, R- Stratford, rose to object to the passage of new rules that he said failed to mark a complete return from the pandemic-era protocols that closed many areas of the Capitol closed to the public, and caused committees to meet online. 
While the gallery above the Senate chamber was crowded with onlookers for the first time in nearly three years, Kelly said that the new rules still marked a "substantial" shift from how business was conducted at the Capitol prior to the pandemic, and thus the rules deserved a public hearing. 
Under the new rules, committees will again be required to meet in person, with the option for members of the public to provide testimony remotely. Despite Kelly's objections, the Senate approved the rules by a voice vote. 
Legislative priorities
This year's session is a full five months, meaning it is a so called long session. Those sessions are used to craft biennial budgets. It also means a significant number of bills will be proposed because, unlike a short session where bills can only originate from committees, during long sessions any lawmaker can float a bill. Whether they get taken up by a committee is another story.
The budget is the big task for the next few months. Everything from worker pay and pension funding to road work and municipal aid wind up stuffed in the budget. There are also the smaller items like funding for nonprofit organizations, projects in local towns and more.
But what else could be addressed during the session? Here's a short but incomplete list of items legislators are likely to bring up:
Electric rates: With increased rates taking effect Jan. 1, lawmakers are likely to take a close look at everything from assistance to families in need to possibly changing the way rates are set.
Bear population: A bear hunt has been taken up on several occasions, but not passed. With black bear encounters spiking, however, a hunt could be the next step.
Tax relief: Lamont has already discussed adjusting the state's personal income tax bracket. Lawmakers could also extend and expand the child tax rebate.
Early voting: Voters in Connecticut have already voted in favor of early voting in future elections. It's now the task of the legislature to set the rules and guidelines.
Housing: The affordability of housing in Connecticut has been a hot topic for a long time, but has been exacerbated during the COVID-19 pandemic. Lawmakers could look at everything from required fair rent commissions to increased rental assistance.
Guns: Lamont has floated several possibilities to crack down on gun violence in the state, including permanently banning assault weapons that were previously allowed under a "grandfather" clause and expanding the state's ban on ghost guns.
Health care: Lawmakers could look at workforce retention in the health care field, along with the affordability of health care for small business owners.
COVID and the Capitol
With hundreds of people crossing paths at the Capitol complex Wednesday, Lamont's office issued guidance Tuesday evening regarding COVID-19, the flu and RSV. People not feeling well and showing any symptoms of any of those illnesses are advised to stay home. It is also suggested to test for COVID-19 before going to the events.
Washing hands and avoiding sharing glasses and utensils is encouraged. While no recommendation on masks was given, they will be available at events and considered "one of the best ways to protect yourself when in a large crowd." 
Connecticut has seen a surge in COVID cases since Thanksgiving with hospitalizations nearly doubling since then. In data published Thursday, the state recorded 3,827 cases on 24,598 COVID-19 tests over the previous seven days for a positivity rate of 15.6 percent. 
Reporters Julia Bergman and John Moritz contributed to this report.