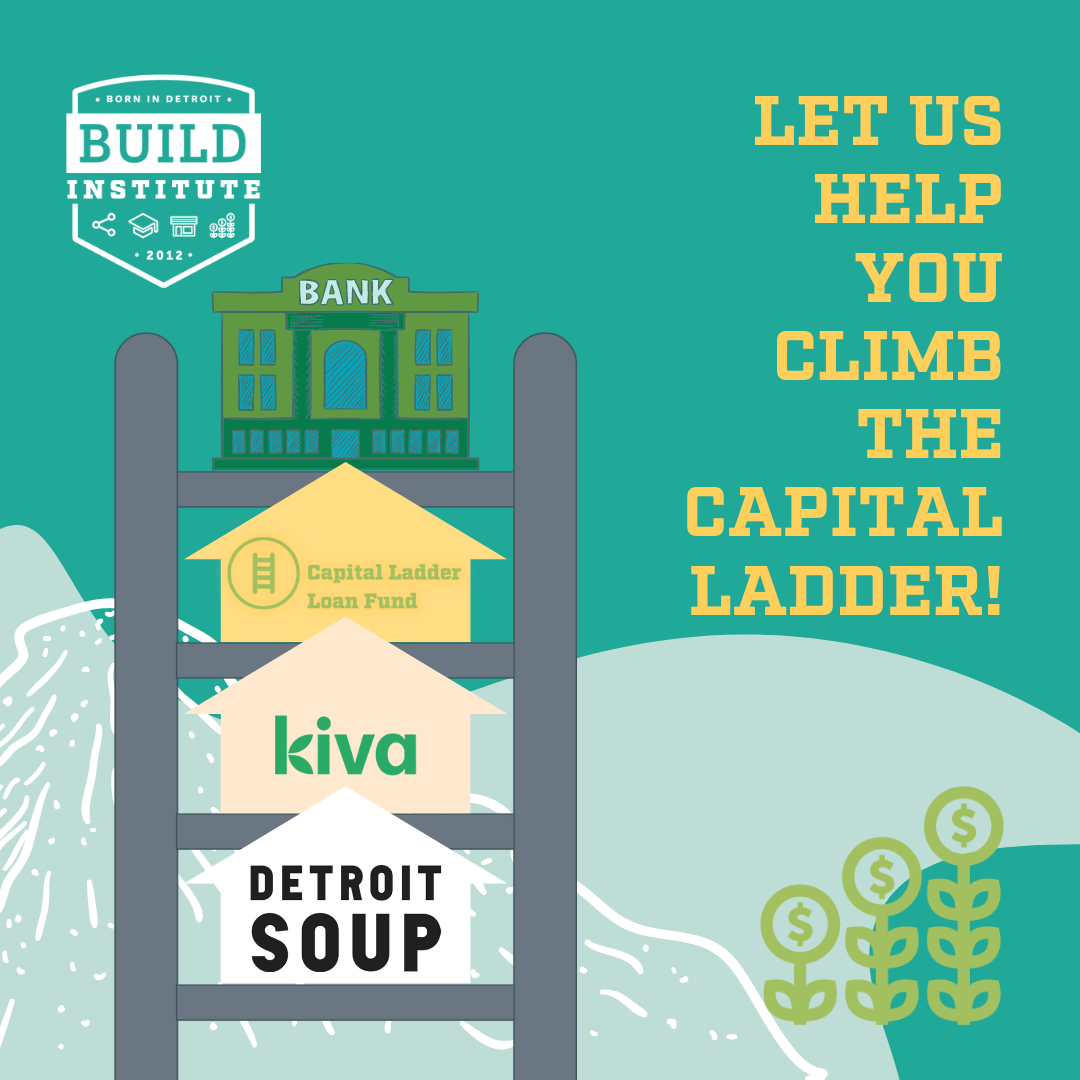 As part of a four-pronged mission to learn, launch, fund, and connect, Build Institute services microentrepreneurs all over Southeast Michigan and beyond. After Build Institute helps with creating business plans, understanding the market, researching competitors, and how to create a sustainable, profitable business, the next step for microentrepreneurs is funding. Access to capital is a crucial step. 
Having a good idea for a business and an ideal location are just two steps of the entrepreneurial process. For some Detroit microentrepreneurs, however, they're the last steps. Many great ideas end there, as access to capital for launching those ideas isn't readily available. Build Institute exists to provide a nurturing community and to develop viable  business plans, launching them into our neighborhoods. 
Build Institute has connected entrepreneurs to over $2,300,000 in capital funds and 602 grants and loans. Currently, there are four Build Institute programs that provide access to capital, including Kiva Detroit, Detroit SOUP, the Advancing Community Business grant and loan program, and the Build Alumni Loan. 
Onni Stone, capital access manager at Build Institute, works with participants, matching entrepreneurs with funding to further their business goals. For some, especially under-represented and underserved individuals, including people of color and women microentrepreneurs, these funds mean all the difference in the world. Build Institute works hard to break down these systemic barriers, and provide businesses with access to capital so they can thrive in their communities. 
Onni Stone is a capital access manager at Build Institute.
"Build has one-on-one coaching where you can sit with an entrepreneur who's done it before, talk with them about your idea, and hear what they've experienced going through the process," Stone says. "
Many entrepreneurs are leery of starting a business, given their own personal finances, which may negatively impact a future business' finances. Although, there are other routes to take along the journey from point A to B. 
Build Institute approaches access to capital as a ladder with different rungs for each step.. These rungs include pitch competitions, grants, business credit lines, profit/loss statements, budgeting, and traditional bank loans. 
Access to funding for under-represented and under-served populations, including people of color and women is even more difficult to achieve. Build Institute works to provide knowledge and free tools to better educate microentrepreneurs on ways to access these funds. 
"Our financial coach is free to work with," Stone says. "That's someone who can lay the groundwork with you about what the requirements are, and what the financial landscape looks like." One of our major success points is that we have coached businesses to sustainability both pre-and-post loan. 
While most microentrepreneurs go to friends and family first to be potential investors or donors for their business, for some, that's simply not an option. Neither is a traditional banking loan either. This is the case for many immigrants and New Americans. 
"Many New Americans may not have a credit score, or know what that means in this country," Stone says. "On our crowdfunded loans, Kiva, you can get a loan there with no credit score and use it to build up your credit. There are ways we provide a starting point for people that otherwise wouldn't know where to start."
For women, barriers that were put in place decades ago, are still putting extra steps in the way for many microentrepreneurs. Even recently, Build Institute has worked with women who were previously denied loans from traditional banks without their husbands or men co-signing on them. In the traditional bank loan setting, women still face systemic barriers, even if they're the leaders of the business. Still, others find accessing capital an all-too-intimidating process.
Build Institute aims to ease some of the tension, and make the process an enjoyable and fruitful one, thanks to their supportive relationships.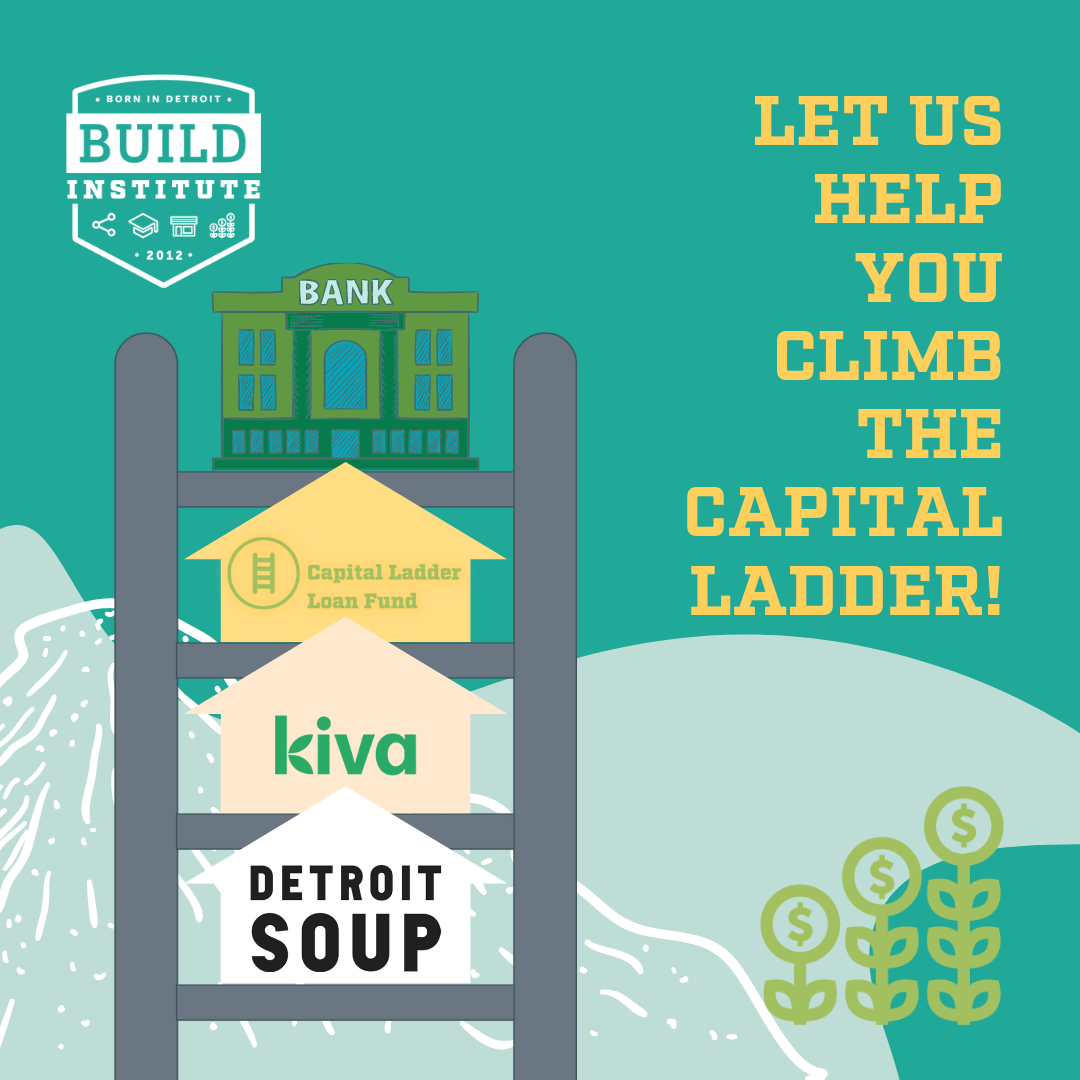 "There's a lot of relationship-building with different lenders in capital," Stone says. "Although it seems intimidating, the system is there to help you. You just need to go out there, meet people, make the connections, and do the work. A lot of it is just speaking the financial language that will say this is what your business is in a way that's clear to those in the financial system."
Build Institute provides entrepreneurs with education in their Build Basics class, an eight-week course working through business ideas, plans, and licensing. After this, entrepreneurs can begin to look at the Build Capital Ladder. 
"If you're starting out with a business idea, the first thing you can do is pitch at Detroit SOUP," Stone says. "It's a networking pitch competition dinner that's run for 10 years in the city. Four people have four minutes to pitch their business idea. The crowd watching gets to vote on their favorite idea, and the winner takes home all the money raised that night. The grant size varies based on how many people are in the crowd, so it's like in-person crowdfunding."
Stone says the monthly Detroit SOUP event has a few benefits, including meeting possible business partners and funders, future employees, landlords, learning helpful critiques, and more connections. 
"Also, working on your pitch is very important for the whole process because you're going to pitch investors, customers, and need to know how to talk about your business in a clear way," Stone says. "This is a good way to practice it in front of your own community."
On average, Detroit area locals win around $1,000 from the pitch competition, which started in 2010, and has been connected with Build Institute since 2016.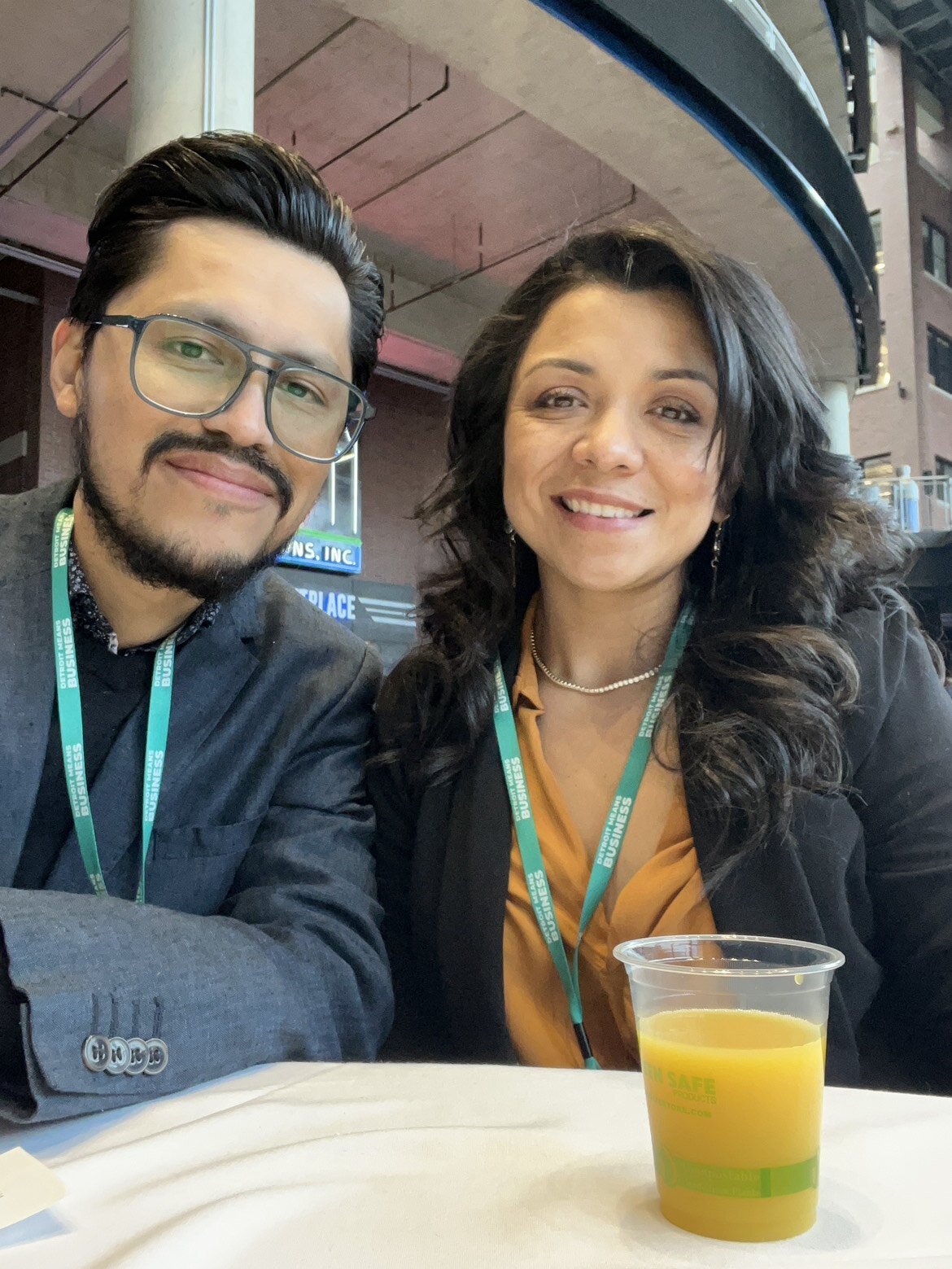 Denisse and Carlos Lopez. Photo supplied. For Denisse and Carlos Lopez, the SOUP competition has enabled their restaurant and event venue, Vámanos! to move forward with its next steps in opening up its location at 4444 W. Vernor Hwy. 
Vámanos!, Detroit's healthy eatery and creative community space, located in the heart of Southwest Detroit, has a mission to make healthy food accessible and affordable. Their goal is to rid the idea that it costs too much to eat a healthy diet. Their menu features salads, wraps, juices, smoothies, wellness shots, coffee, tea, and other homemade or locally-sourced items. 
Working with Build Institute was crucial in taking Vámanos! to the next level, says Co-Owner Denisse Lopez.
"Thanks to Build, we have gained access to a whole new world; guiding us in the right path with the right folks," she says. "Through Build, we have acquired so many different and amazing resources, from pitching to learning how to write grants, to connecting us to all kinds of resources to keep growing. Business summits, workshops, architects, and folks who advocate for the community as well. We are so very grateful for all of the help Build has thus far given us."
It's a community these owners are proud to be a part of, too. "I see so many small business owners accessing and sharing all of the help and resources our city has to offer," Lopez says. "We love to be a part of this ecosystem where we have the wonderful opportunity to create a positive change in our community."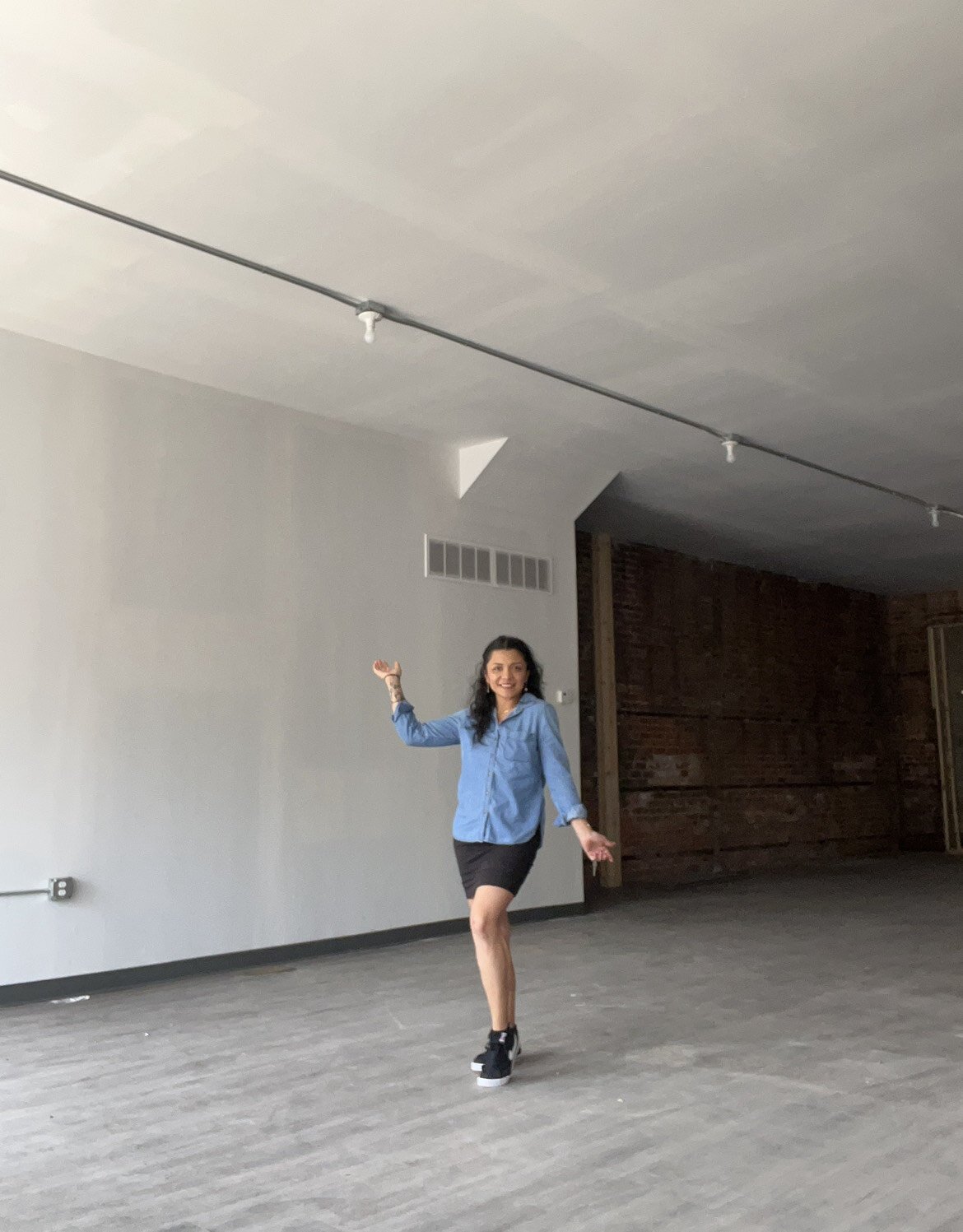 Vámanos! was recently awarded the Motor City Match Design Track, and given $25,000 towards the architect and design of the building. Once open, the business will provide community resources like free fitness classes, art galleries, recycling workshops, open mics, work/study areas, and other health and wellness-centered events. 
The next rung on the Capital Ladder is the Kiva loans, says Stone. "These are crowdfunded loans that are done online. Anyone around the world can lend someone $25 toward whatever amount they're trying to raise. The loans are between $1,000-$15,000. They are zero-interest and have no fees, and are some of the only no-interest loans on the market right now. 
Given how high-interest rates are these days, makes the zero-interest Kiva loan a very attractive option, says Stone. "Kiva is run by a nonprofit whose mission is to provide a platform for lenders and borrowers to connect. They don't take any fees, and they try to make it accessible to those who don't normally get access to funding. Part of their underwriting system involves inclusion for people who have been refused loans in the past, immigrants, veterans, women, and minorities."
Build Institute acts as the local Michigan hub for Kiva, providing an average of $6,000 per loan, with a total of 367 loans given to Michiganders. 64% of these residents identify as female, and 56% identify as Black, Afro-Caribbean, African, or African-American. 
"This is a really important step for people because you're not able to get traditional loans under two years in business," Stone says. "This can help you get from that 0-2 year point, and also be building up credit and working on your network and business community at the same time."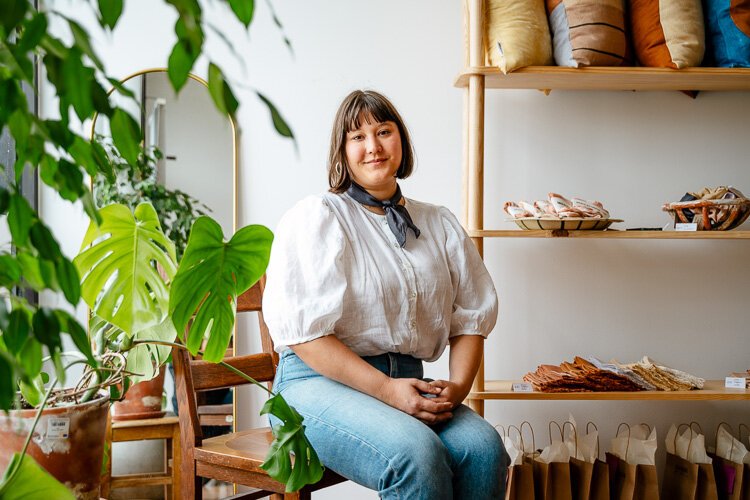 For Meghan Navoy, owner of Rosemarine Textiles, the Kiva loans have been pivotal for her home goods and accessory store in Hamtramck. After studying textiles at the Fashion Institute of Technology in New York, Navoy became interested in sustainable, low-waste production methods. Looking for a way to dye materials naturally for her own wedding, Navoy's hobby grew, and became a full-fledged business. The business uses natural plant dyes and makes silk ribbons, home decor, accessories, hair scrunchies, bandanas, and throw pillows in-house. 
In 2019, Navoy used her first Kiva loan through Build Institute to pay for her first trade show in New York. In November 2023, she received a $15,000 Kiva loan to open up her new store, and for a local redesign of her business website. 
"Onni at Build Institute was such a huge help," she says. "It's crazy the amount of assistance and how easy it is. Going through them expedites the process, and also enables you to qualify for more capital as well. I've never done a traditional loan through a bank, so it's amazing that the Kiva loan is possible. It's really great to have a zero-interest loan, and to be able to pay it back in very doable monthly increments."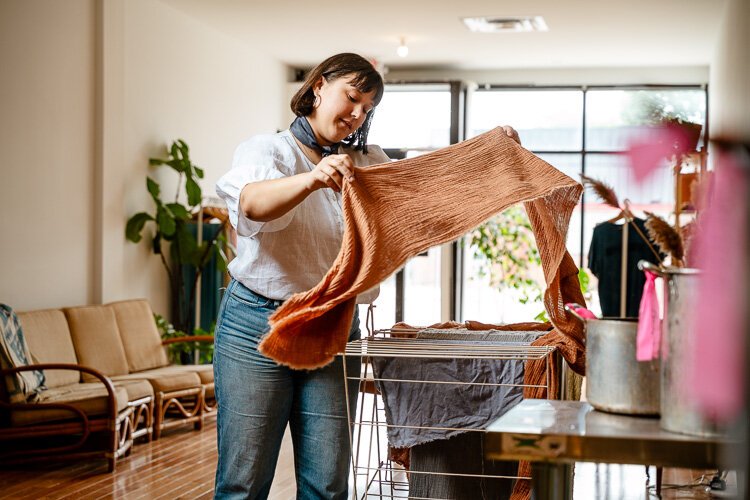 Navoy's next plans are to launch a new website this month or next month, and open a studio and retail store in Hamtramck. The production space will be used to host dye workshops for the community, and will feature a retail store in the front of the building. 
The third rung on the Capital Ladder is the Build Alumni fund, available to anyone who's gone through one of Build's classes. The fund offers $5,000 to $10,000 loans with 3% interest. 
"It requires more paperwork than the Kiva loan does, but a lot of the preparation they'll have to do for that will get them in the headspace and ready for what they'll have to do at a traditional bank," Stone says. "As someone who comes through one of our programs works through it, by the time they finish, they'll be totally eligible to apply for a traditional bank loan. We have all of the aspects they'll need to get that ready."
A lot of Build Institute participants go on to perfect their business pitches at other competitions across the city, including the Comerica Hatch Detroit contest, with the chance to win $100,000 for their business. 
"We've seen them working for years on their idea, they're gradually building and expanding. Some of the services we have are helping them to do so," Stone says.
Another program, in partnership with the Michigan Centralis the Advancing Community Business program for Corktown, North Corktown, and Southwest Detroit businesses. 
Over the last decade, Build Institute's work has enabled businesses to start, grow, and flourish, positively shaping their neighborhoods and revitalizing their communities. Something they hope continues to happen for years to come. 
"We've been doing this work for about 10 years, and have had a good impact so far," Stone says.