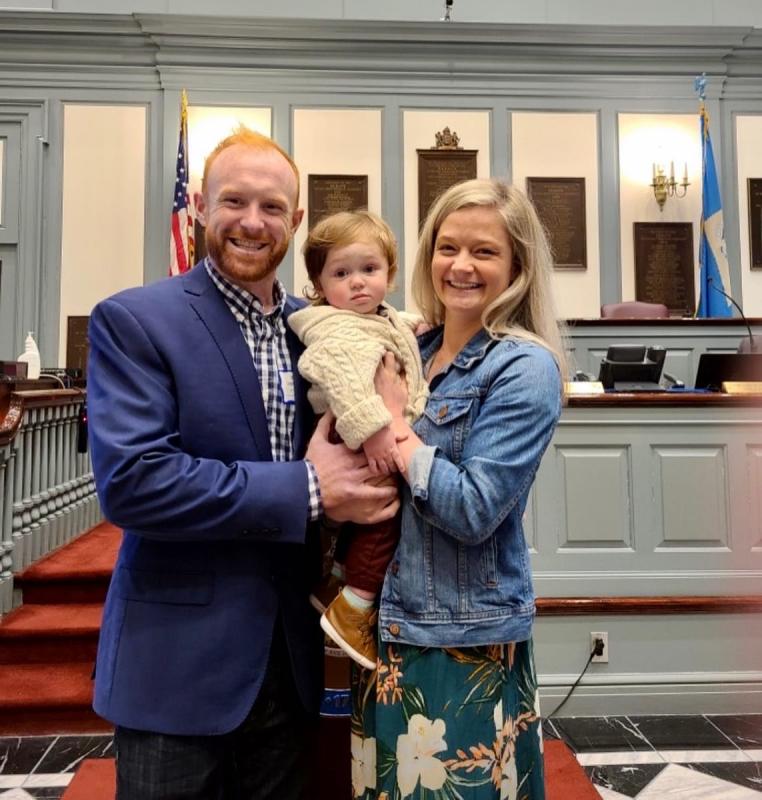 Life coach, motivational speaker and personal trainer "Red" Ryan Ennis has years of experience in helping clients reach their goals and live healthy lives.
Through his businesses, Beyond the Bar United and Life Beyond the Bar, Red helps restaurant industry employees manage stress and encourages clients to adopt healthy mental and physical lifestyles so they can experience life beyond the bar they set for themselves.
Ennis has a large following on his Facebook page, where he delivers inspirational messages to help others in their time of need.
"No matter what you're going through, never give up," he said.
Red's own resilience was tested when his son Cole was born April 14, 2021. Wife Brittany Ennis enjoyed a healthy, full-term pregnancy, and the couple expected a joyful birth experience.
However, complications arose during delivery, which resulted in Cole suffering a brain injury. He experienced shoulder dystocia, which occurs when one or both of a baby's shoulders gets stuck inside the mother's pelvis during labor and birth.
"He was trapped against her pelvic bone," Red said. "It went from the happiest day of our lives to the scariest, most surreal experience we've ever had."
A team of clinicians flocked to the delivery room as Cole's heart rate became virtually nonexistent, Red said. The physician used a vacuum extractor several times, Red said, resulting in severe brain trauma. 
Once he was delivered, Cole was placed on a cooling table, which put him in a hypothermic state to help him heal for three days, Red said. His organs were failing, Red said, and he was having seizures "left and right." 
By Cole's third day in the hospital, clinicians told the Ennises their son would likely be severely disabled with no quality of life, or have no life at all. 
Life changed that day, Red said. "I never knew I could love someone so much," he said. "I would have given my life for him."
Red said he put his faith in God. "We were praying for a miracle of all sorts."
On April 16, he shared news of his son's condition on his Facebook page. 
"Right now he is essentially on life support and due to his outlook we may be forced to make the worst choice a parent will ever have to make pending any improvement," Red wrote. 
Red asked his followers for any prayers of healing and strength. "From the moment I put this on Facebook, things started to change," he said. "The kindness of people was overarching."
Friends launched food drives and strangers sent money. A GoFundMe raised $60,000 in days to help with medical expenses. "A church in Africa was even praying for us," Red said.
From that point, Red said, Cole's blood work results improved and he began to produce wet diapers. Organs that were failing started to recover, and the swelling in his brain lessened. The seizures stopped. He was taken off oxygen. His right arm, which was deemed to be paralyzed because of the trauma at birth, regained strength; he could squeeze his fist. 
"It was a miracle," Red said. 
After 12 days in the hospital, Cole was released to go home, but his level of recovery was still unknown, Red said. For the first six months, Cole saw doctors and physical therapists three days a week. 
"Cole is now thriving," Red said Aug. 18. "He's right on target with everything. It was God's way of saying, 'I showed you I can do this – you're just going to have to trust me, because the next part is going to be tougher.'"
In fact, the months leading up to Cole's birth were challenging because Red was in so much pain and didn't know why. Four months before Cole was born, Red's hip began to hurt. Before long, Red said, it got to the point where he couldn't see a future without pain.
At the same time, he was trying to renovate his home in preparation for Cole's arrival.
"One day I couldn't lift a hammer," he said. Family and friends helped finish the work before Cole's birth.
While he was in the hospital with Cole, the pain went dormant, Red said. Then, it intensified. Painkillers couldn't touch it. He couldn't walk or hold his newborn son.
Finally, a scan showed an inflamed calcification. A CT showed a possible osteoblastoma, which is a benign bone tumor. A small chance of cancer was present, Red said.
He was sent to MD Anderson Cancer Center at Cooper in New Jersey for further testing. A spot in his lung was dismissed as possible pneumonia; Red felt ill and had a rattling cough that day. Clinicians found no sign of cancer, Red said. 
However, he said, two weeks later they called with horrible news. The cells that were biopsied came back positive for lung cells present in the bone mass. Red was diagnosed with Stage 4 metastatic lung cancer.
"Which is the leading cause of death among all cancers," he said.
Everyone was in disbelief, Red said. He was 31 years old, an extremely healthy athlete, and had never smoked. Genetic testing revealed he had an EGFR mutation lung cancer.
Red now receives care, including chemo, radiation and other therapies, at Johns Hopkins, where his clinicians told him they see miracles happen every day. He's suffered from blood clots in his leg and lung, COVID-19 and a micro-hemorrhage in his brain.
"I still feel lucky and blessed," he said. "Cole is the greatest thing that ever happened to me. He's my best friend, and I never knew I needed him. If it's not in the cards for me to be cured, I have this amazing son. Watching him overcome everything this life has thrown at him is a joy I never thought was possible."
Red's thoughts turned to how he could leave the world a better place than he found it. He decided he wanted his birthday, Aug. 23, to be Random Acts of Kindness Day.
"How cool would that be? It starts with one person, one interaction," he said. "You never know what someone is going through."
He launched the idea on social media, where his friend Mike Soyka, legislative assistant to Sen. Trey Paradee, D-Dover, got the message. 
On March 24, Paradee sponsored a resolution recognizing Aug. 23 as Random Acts of Kindness Day, encouraging the public to participate in random acts of kindness to increase happiness, unite the community and increase the well-being of Delaware residents.
The Ennis family was present for the resolution proclamation. Red said he hopes people will observe the day by performing simple gestures, such as giving an unexpected compliment, smiling at someone who looks sad, or taking the time to write a great online review for a restaurant they love.
Red said he hopes people will share their acts of kindness on his Facebook page, not to receive thanks or recognition, but to share the experience of how it feels to do something truly kind for completely unselfish reasons. 
"People want to help," he said. "I see so much kindness and goodness in people. This can create momentum. Let's see what people are truly capable of."