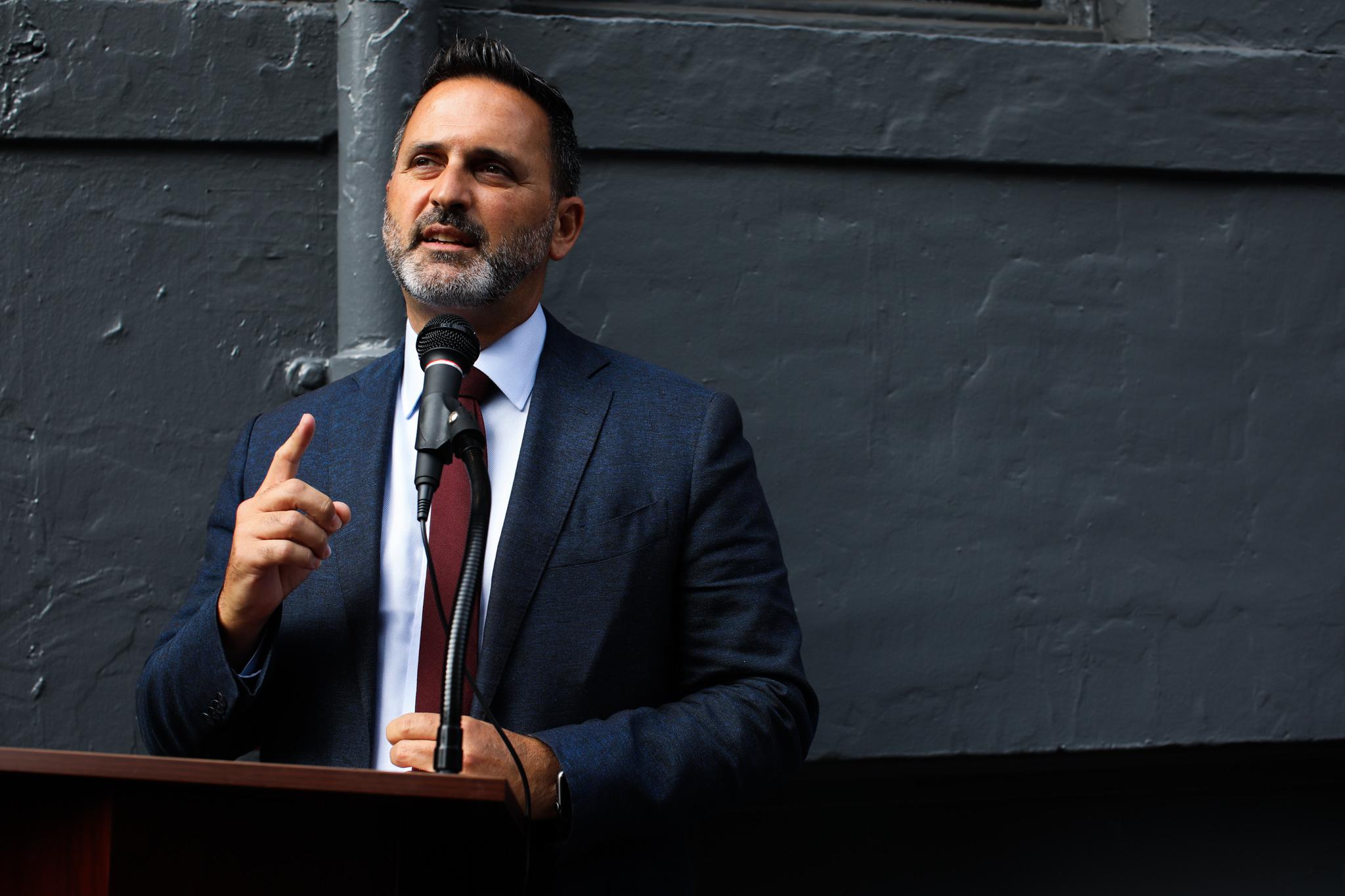 San Francisco Supervisor Ahsha Safaí has made it official: He is challenging Mayor London Breed in the 2024 election. 
Safaí filed paperwork Monday morning formally declaring his intent to run for mayor next year, launching what could be an intense contest for the city's top political job.
Safaí, a two-term supervisor who represents the Excelsior, has for months been widely believed to be gearing up for a mayoral bid, and he confirmed to reporters in March that he was contemplating a run.
Now his decision is final. 
"People are very dissatisfied with the current mayor, dissatisfied with the condition of the city and they're looking for change," Safaí told The Chronicle. "A lot of the people that I represent and work with and have talked to all over the city want someone that's going to fight for working families, that's going to fight to get the city back on track. I have heard overwhelmingly that they want new leadership." 
Safaí may have a hard time distinguishing himself from Breed at first. He and the moderate mayor have taken similar positions in the past on issues such as housing development and retail crime. 
Politically, he has not always been aligned with the progressives who are most opposed to Breed. In fact, Safaí defeated a progressive when he won election to the Board of Supervisors in 2016, a victory that was seen at the time as helping moderates gain control of the legislative body. But Safaí said even then that he didn't think he could be labeled either a moderate or progressive.
Maggie Muir, a political consultant for Breed, previously told The Chronicle after Safaí said he might run for mayor that Breed "has a very clear vision and roadmap for the city," including a desire to hire more police officers, crack down on fentanyl dealing, revitalize downtown and build more housing.
Muir said in March that if Safaí "wants to run for mayor, San Franciscans will be looking for a record and a plan that will move the city forward."
"So far he hasn't demonstrated either," Muir said at the time. 
Safaí was once an ally of Breed's, but the two have grown more distant as Safaí has taken a more critical position against the mayor and her administration. 
He sponsored a proposal from Breed in late 2021 to fast-track some kinds of housing developments — her third attempt to get supervisors to embrace such a measure. After other supervisors declined to send that proposal to voters, Breed and her allies got the measure on the November 2022 ballot anyway by running a successful signature gathering campaign. Yet Safaí ultimately backed a rival housing measure pushed by progressive supervisors. Both measures, Propositions D and E, failed.
In the same election, Safaí also sponsored a separate measure, Proposition C, that created an oversight commission for the city's homelessness department, which Breed controls. The proposition came in the wake of a Chronicle investigation into squalid living conditions at single-room occupancy hotels where the department houses formerly homeless people. Breed opposed the measure, but it was approved by voters.
Safaí also criticized Breed after her State of the City address in February, telling a Chronicle reporter that he "didn't hear a spirit of collaboration" with supervisors, labor groups and the business community. 
He echoed those comments when discussing his final decision to run for mayor next year. 
"If you're constantly making declarations but not willing to collaborate and work with others and lead in an effective way, you're not going to see results," he said.
Safaí said he felt Breed's administration had "completely mismanaged" conditions around United Nations Plaza and the adjacent Tenderloin district, which has been the epicenter of the city's drug dealing and fatal overdose crisis. Regarding Breed's temporary state of emergency in the Tenderloin that lasted for a few months last year, Safaí said he thought "there was no clear plan, there was no clear follow through." 
"In fact, if you talk to a lot of the surrounding merchants and residents, they feel like it contributed to making things worse," Safaí said.
To improve the city's response to its drug crisis, he said he would put more of an emphasis on creating more sober living environments to help people with substance use disorder transition into recovery. He also said he would fight harder to ensure that the city is providing drug treatment on demand, so users are able to access services whenever they're ready for them.
Safaí said he thought his constituencies in the mayoral race would include middle-class families, small business owners and "people that feel like San Francisco is headed in the wrong direction," which he called "a significant portion of the city." 
Reach J.D. Morris: jd.morris@sfchronicle.com; Twitter: @thejdmorris